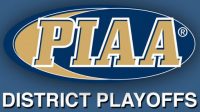 By Andrew Robinson
Cheltenham coach Patrick Fleury knew the exact point where his team took off Tuesday night.
A 3-pointer by sophomore Saleem Payne lit a fire in the No. 3 seed Panthers and their home crowd, a central play in a 9-0 run to end the first quarter. They would not slow down from there, and the pressure came nonstop as Upper Darby's turnovers began to mount in a one-sided second quarter.
Cheltenham's ferocious defense overcame the No. 19 Royals 83-57 in the second round of the District 1-6A boys basketball tournament, securing a state playoff bid for Cheltenham.
"Last year we fell a win short so to get that done for our group is amazing and the next goal is Temple," Fleury said. "We came out pretty good in the first quarter which set the tone for us and we were able to ride that momentum."
Whether it was a week off thanks to their first round bye or Upper Darby's zone defense early, the Panthers weren't getting points on the board at first. They led just 6-4 with 1:30 left in the opening quarter before senior Jaelen McGlone's and-one kicked off a 9-0 run to end the quarter with Payne's trey putting the hosts up 11-4.