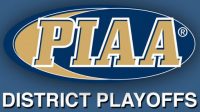 By Matt Smith
Jack Cavanaugh received high praise from coach Bob Miller after Upper Darby's 73-68 victory over Plymouth Whitemarsh in a District 1 Class 6A playback game Friday night.
"That was the best game he's had all season," Miller said.
And in the biggest game of the 19th-seeded Royals' season, where a win kept them alive for a berth in next month's PIAA tournament and a loss would send them home for good, Cavanaugh delivered in the clutch.
Cavanugh, a sharpshooting senior guard, buried the go-ahead 3-pointer late in the fourth quarter after Plymouth Whitemarsh went ahead on a trey by exciting freshman guard Qudire Bennett.
"If you watched him all offseason and every day in practice, he's a kid who makes shot after shot. He just hasn't had a night like this," Miller said. "I told my assistant coaches that when we lost (junior guard) Shareef Jones (to a season-ending injury) for playoffs, that we really need Jack to step up and make some shots."