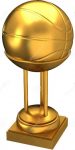 By COBL Staff
The final segment of the 2017-18 Pennsylvania high school basketball season is upon us.
Six different brackets of 32 teams each get underway this weekend in the Pennsylvania Interscholastic Athletic Association (PIAA) state playoffs, the second year since the expansion from four classifications to six brought even more excitement to March in high school gyms around the Keystone state.
The CoBL staff will be going in-depth on each of the six classifications to preview the state tournament, with favorites, contenders, dark horses and players to watch.
Here's a look at the Class 5A bracket (district-seed, record in parenthesis); all first-round games will take place Friday, March 9.
The Favorites
Bonner Prendergast (12-1, 22-4)
The Friars won the District 12 title, bringing them to their first ever PIAA state tournament appearance, a week after dropping the Catholic League title to Roman Catholic. Two junior transfers, Isaiah Wong and Tariq Ingraham, have been a huge part of the Friars' attack, as has senior forward Ajiri Johnson, a Rider commit. Sophomore guards Tyrese Watson and Donovan Rodriguez, as well as junior Mike Perretta, also make an impact for the Friars. Bonner-Prendie has proved to be dangerous this year, beating powerhouses such as Neumann-Goretti, Roman Catholic, and Archbishop Carroll, and when they get hot they are a tough bunch to slow down.